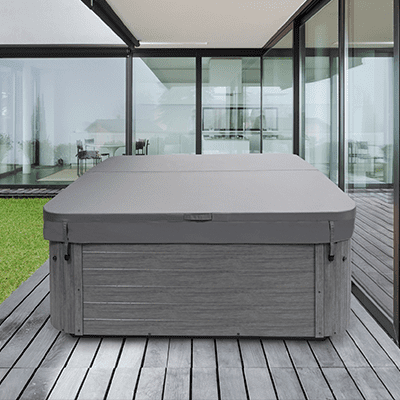 Protective Hot Tub Covers
Spa covers help protect your hot tub from debris and severe weather conditions, as well as extend its lifespan.  A cover will also reduce the effects of evaporation while helping to maintain its proper chemical balance.  Investing in a good cover is investing in the longevity of your tub.
All Seasons Shield Cover
Best Hot Tub Covers
Our All Seasons Shield Cover fabric is 100% solution-dyed polyester that's light-weight, extremely durable, environmentally superior and does not absorb water.
Other benefits include:
Reduces overall cover weight
3x stronger than traditional vinyl
Provides superior tear and abrasion resistance
Made with recyclable materials so it's environmentally superior
Hot tub cover lifters are essential accessories for any hot tub owner as they make the process of removing and replacing the cover much easier. There are two main types of hot tub cover lifters: hydraulic and manual. Hydraulic cover lifters use a hydraulic cylinder to assist with lifting the cover. Manual cover lifters, on the other hand, rely on manual lifting to remove and replace the cover.
"Do I need a hot tub cover?"

Hot tub covers are an essential accessory for any hot tub owner, as they provide numerous benefits that help to maintain the quality and longevity of the hot tub. One of the most important benefits of hot tub covers is that they help to keep the water clean and free from debris such as leaves, dirt, and insects. This is because covers create a barrier that prevents any foreign objects from falling into the hot tub, which not only helps to maintain the aesthetic appeal of the water but also reduces the need for frequent cleaning.

Moreover, hot tub covers also help to regulate the temperature of the water by preventing heat loss through evaporation. This helps to reduce energy costs and keeps the hot tub at a consistent and comfortable temperature. Additionally, covers prevent excess water from evaporating, which helps to conserve water and reduce the frequency of refills.

Lastly, hot tub covers provide a layer of safety and security, particularly for households with children or pets. They can prevent accidents by acting as a barrier and preventing access to the water when the hot tub is not in use. Overall, hot tub covers are an essential accessory for hot tubs as they provide multiple benefits that help to maintain the quality, safety, and longevity of the hot tub.