To maximize your hot tub entertainment
Our stereo systems provide the ultimate hot tub entertainment. We have many stereo and streaming options available. With any of our Bluetooth® options, you can stream music with the touch of a button. Connect any smart device of your choice and instantly start enjoying your favorite tunes.  
The speakers are designed to deliver the best sound quality possible.  The design is newly engineered to optimize clear sound and better dispersion.  They deliver impeccable attention to musical detail and provide a superior sound all around.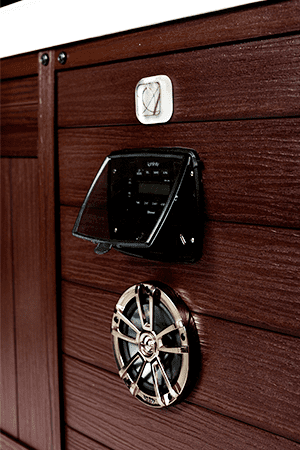 BBA™2 Specs
Fully integrated Bluetooth audio streaming
(4) 3 in. Speakers, Subwoofer
Optional (2) 3 in. Patio Speakers (Stereo System 2, 3)
PREMIUM INFINITY® SOUND SYSTEM BY HARMAN
INFINITY® Specs
Bluetooth Receiver
AM/FM
USB
Auxiliary Input
(4) 3 in. Speakers
(2) 6.5 in. Exterior Speakers
Power Subwoofer
BLUETOOTH® MUSIC EXPERIENCE
BLUETOOTH® Specs
Bluetooth Receiver
AM/FM
USB
Auxiliary Input
(4) 3 in. Speakers
Subwoofer
AUX INPUT & BLUETOOTH MEDIA LOCKER
AUX INPUT SPECS
Bluetooth Receiver
3.5 mm Input for MP3 devices
Power Subwoofer
(4) 3 in. Speakers