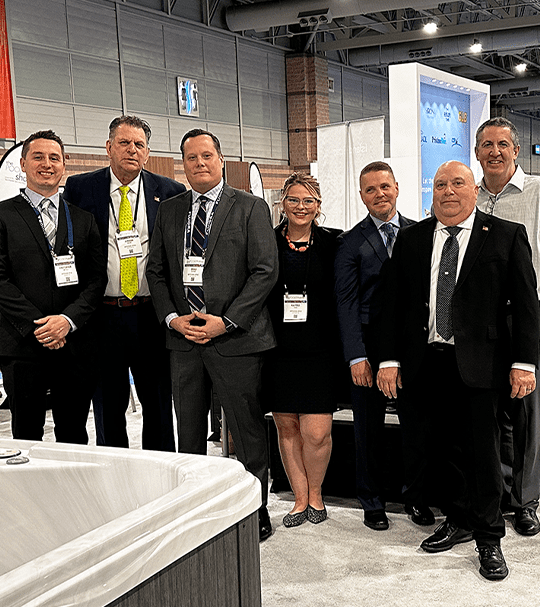 Our Experience in the Hot Tub Industry
With 100+ years of combined hot tub and spa manufacturing experience, our founding partners worked together to create Artesian Spas. When you buy an Artesian Spa hot tub, you become part of the family, provided with the same quality service and support the company is world-renowned for.
'Business is like tennis. Those who serve well, win,' and really, that's who we aim to be. We want to serve people with excellence. We want to serve dealers, customers, and certainly shareholders, with excellence. But we also want to serve our employees and our vendors with excellence.

Directflow Personal Control System
Personal Control for Every Seat
The innovative patented DIRECTFLOW Personal Control® System combined with the VARIABLE FLOW CONTROL (VFC) provides each user the ultimate individual control and hydrotherapy experience.
1. Air Control – Air pressure adjustment
2. Pump Switch – Turn individual seat pump on/off
3. Variable Flow Control – High or low jet pressure
The Frog® @ease™ In-Line System
The combination of Fresh Mineral Water™ with SmartChlor™ Technology provides cleaner, clearer and softer spa water that's far easier to maintain.
Up to 75% LESS CHLORINE
Only Shock ONCE a Month
SELF REGULATES for continuous clear water
Easy on hot tub surface with LESS ODORS
CLEANER because it kills bacteria 2 ways
Minerals condition the water for a SOFTER feel
Diamond AOP™
Crystal ProPure™ Ozone Mixing Chamber
Crystal ProPure Water Purification combines the Ozonator, Dynamic Injector, and the ProPure Mixing Chamber.
Artesian Spas Worldwide WiFi App Module
Technology made easy. Use your smart phone to change your spa's filtration and temperature settings.
Intuitive layout! Easy to manage all functions.
How it Works:
The app provides full interface control to set temperature, turn on pumps, set filtration cycles, and more. Gain access through local WiFi network, or anywhere in the world that has internet connection via 3G, 4G, or WiFi hot spots. App available on the App Store (iPhone) or Google play (Android).
The app's cloud access cost is free for the first 12 months, then $24 per year after. If not renewed after 12 months, the app will continue to operate in local mode only.
For iTunes: Download the app here
For Google play: Download the app here
Instructions can be downloaded from http://www.balboawatergroup.com/bwa
Topside Control Panels
Advanced Topside Digital Control Systems
The new generation of Artesian Spas' control systems takes spa control to a whole new level. These new sleek designs include a large easy to read back-lit LCD with simple to follow menus and the technology to control your spa system wirelessly. Easily set the temperature, lighting preferences, reminders, diagnostics, languages, messages, and time.
Features
Artesian Elite | SpaTouch 2 Topside: 3 Zone Lighting Ready, Color LCD Panel, WiFi Ready (Module Required), Multi-language Interface
Island Spas Elite |

 

SpaTouch Topside: Color Touchscreen Panel, WiFi Ready (Module Required), Multi-language Interface
Island Spas |

 

SpaTouch Topside: Color Touchscreen Panel, WiFi Ready (Module Required), Multi-language Interface
Garden Spas & South Seas Spas | Digital Control System with LCD Topside
H2O PowerFlow Jets & Patented Helix Jets
Hydrotherapy involves the use of water to aid in pain relief and maintain health. Every body is different, which is why we provide a wide variety of jet options.
H2O PowerFlow Jets
2″ H2O PowerFlow Direct: These "hand jets" located at the base of each seat and lounge are designed to give each user the flexibility to control and adjust the flow in any desired direction – perfect for melting away tension and creating a euphoric release of tight and commonly overworked muscles.
3″ H2O PowerFlow Mini Roto: This jet is the centerpiece of the Artesian Elite line – making up the majority of jets in our hydrotherapy spa line. Technological advances have helped develop a fully-rotational helix flow, designed to release residual tension in the back and legs – two commonly troublesome areas.
3″ H2O PowerFlow Mini Massage: Many people carry tension in their neck. This fixed massaging jet distributes flow through multiple orifices, designed specifically to disengage the overworked muscles in the neck, creating a chain-reaction of therapeutic benefits that can help whisk you away into a state of relaxation.
5″ H2O PowerFlow Roto: These high-pressure jets are engineered to help alleviate deep aches, pains and bothersome tension in the lower back area. Just a few quick minutes dedicated to your hydrotherapy routine can have lasting effects on your stress levels, your body and your mental clarity.
5″ H2O PowerFlow Hydro Extreme: These specialized whirlpool jets are located atop The Artesian Elite spas. The "eyeball" design gives maximum control and a targeted, stress-relieving experience for the middle region of your back. Ease your lower back into a heavenly release with a few dedicated moments of self-care, each and every day.
7″ H2O PowerFlow Footblaster: Your feet work hard for you every day. It only makes sense to ensure that you are giving your feet the opportunity to feel refreshed and renewed, with some dedicated massage time. Your feet deserve the best. Show them some serious love with these high-pressure massaging jets, which offer a perfect amount of warmth and pressure to soothe your tired feet and rejuvenate your soul.
What does quality construction mean to us? Our spas are built from the ground up to the highest standards.
We start by building our frames using only pressure-treated lumber on top of a full ABS Base. This solid foundation is covered with our beautiful, durable cabinets.
The space between the maintenance-free cabinet and the structure is filled with insulating foam. This full-foam insulation provides the highest quality and most efficient heat retention rating available in any spa, and it also dramatically increases the lifespan of the spa. It makes the whole structure stronger, quieter, and more durable, in addition to protecting the plumbing from unnecessary wear due to vibration.
We top it all off with our durable, hand-sculpted acrylic shell with our lifetime Diamondbond backing.
Our jets rotate on bearings rather than plastic for ease of adjustment, and our pillows are a dyed-through, closed-cell foam to prevent cracking, discoloration, and water absorption.
We build a spa with the same quality a good house is built – to last!
Quality Plumbing
Superior Plumbing & Construction
Maintenance-Free Quality Cabinets
Grandwood, Rock, & Monarch Elite options
Warranties
Structure, Surface, Cabinet, and Parts, Labor, Plumbing, & Electrical
Ergonomic Design
Hand-sculpted organic forms that visualize art more than science.
Quality Insulation
Full foam to provide the unparalleled heat retention
Artesian Spas consists of a manufacturing warehouse, office personnel, and a global dealer network. Our hot tubs travel gently through loving hands, all the way to your home. Because our global mission for wellness starts from within, we ensure our team is well-taken care of. In return, we can take care of our partners and customers equally as well.