When it comes to hot tubs, there are a variety of options available in the market. Two popular choices are plug-and-play hot tubs and inflatable hot tubs. Both are great entry-level options that have their own unique features and benefits, but they also come with their own set of drawbacks.
So, which one should you choose? Let's take a closer look at each type to help you make an informed decision!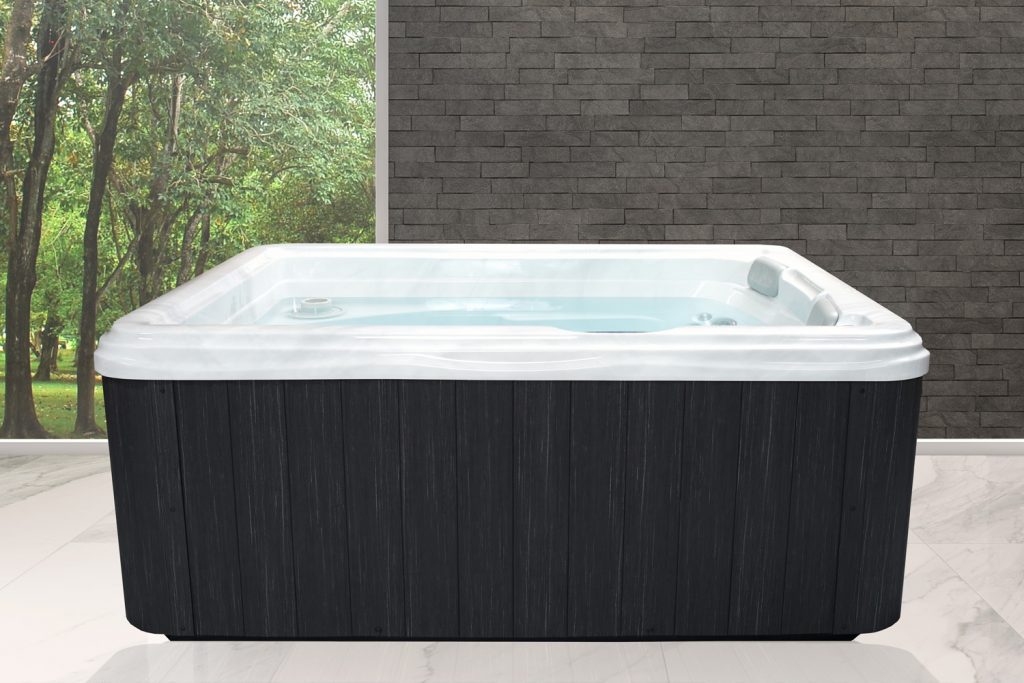 What are plug-and-play hot tubs?
Plug-and-play hot tubs are a popular choice among homeowners who want a permanent hot tub solution but an easier installation. These tubs can plug into a standard 120 V-15 A outlet, requiring much less electrical setup than traditional hot tubs.
Additionally, plug-and-play hot tubs offer a high level of durability and construction. They are typically made of acrylic, fiberglass, rotationally molded plastic, synthetic wood and composite, foam insulation, stainless steel, and/or resin. The specific materials used can vary based on the brand, model, and price range.
Benefits of a plug-and-play hot tub
Ease of installation
Low initial cost
Energy efficiency
Simple electrical requirements
Stronger jet power
Quick setup
Built-in water treatment system
Great entry-level option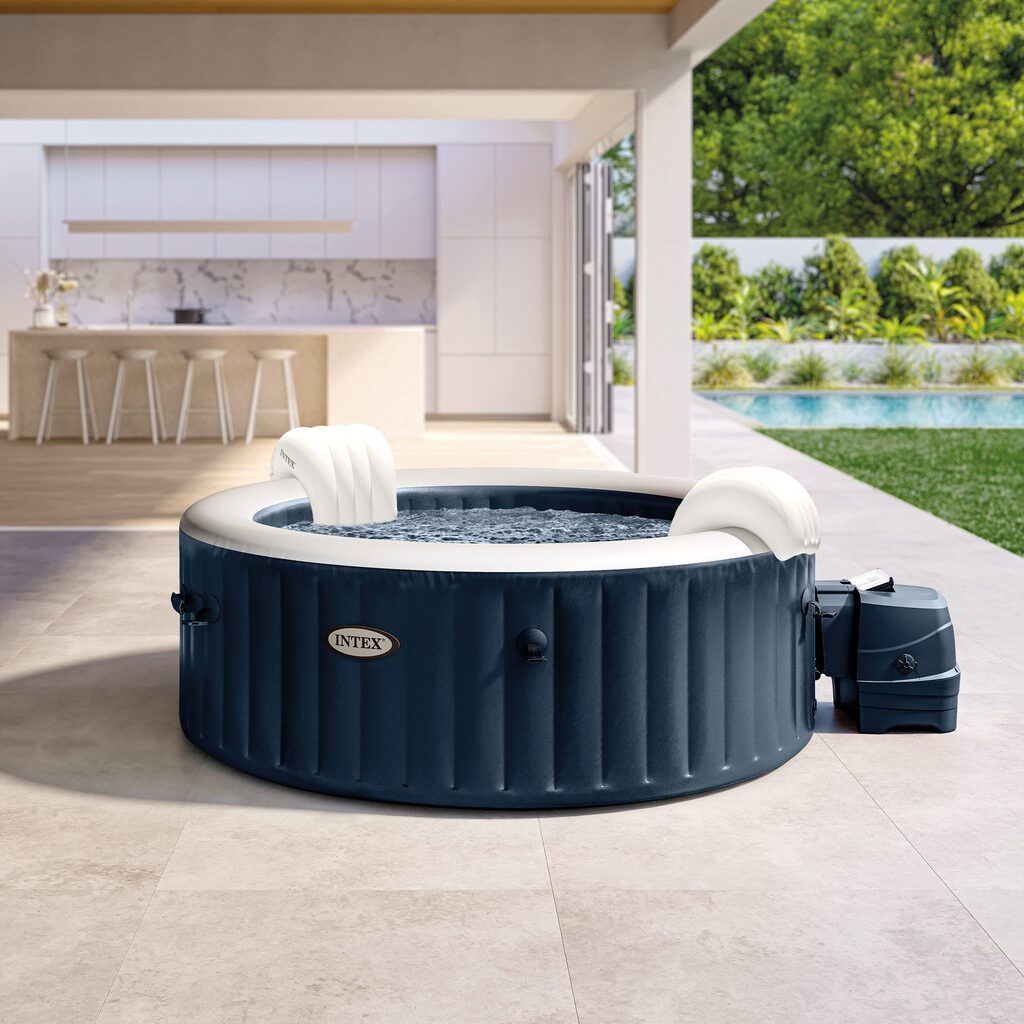 What are inflatable hot tubs?
Inflatable hot tubs are pretty self-explanatory. By nature, they are highly portable and temporary. They can be easily set up and inflated in various locations, typically using a standard 110 V-15 A outlet.
Inflatable hot tubs also offer the convenience of deflating them and storing them away. However, this comes with the trade-off of being generally less durable with fewer features compared to a plug and play hot tub.
Common materials used to create an inflatable hot tub are PVC (polyvinyl chloride), drop-stitch technology, polyester or nylon fabric, and air bladders made from PVC. Some inflatable hot tubs include polyurethane foam insulation that provides additional heat retention. The quality and durability of inflatable hot tubs can vary based on the materials used and the overall design.
Some of the best inflatable hot tub brands include Intex, Coleman SaluSpa inflatable hot tub, and Bestway SaluSpa.
Benefits of an inflatable hot tub
Ease of installation
Affordability
Portability
Saves space
Non-permanent installation
Temporary use
Great entry-level option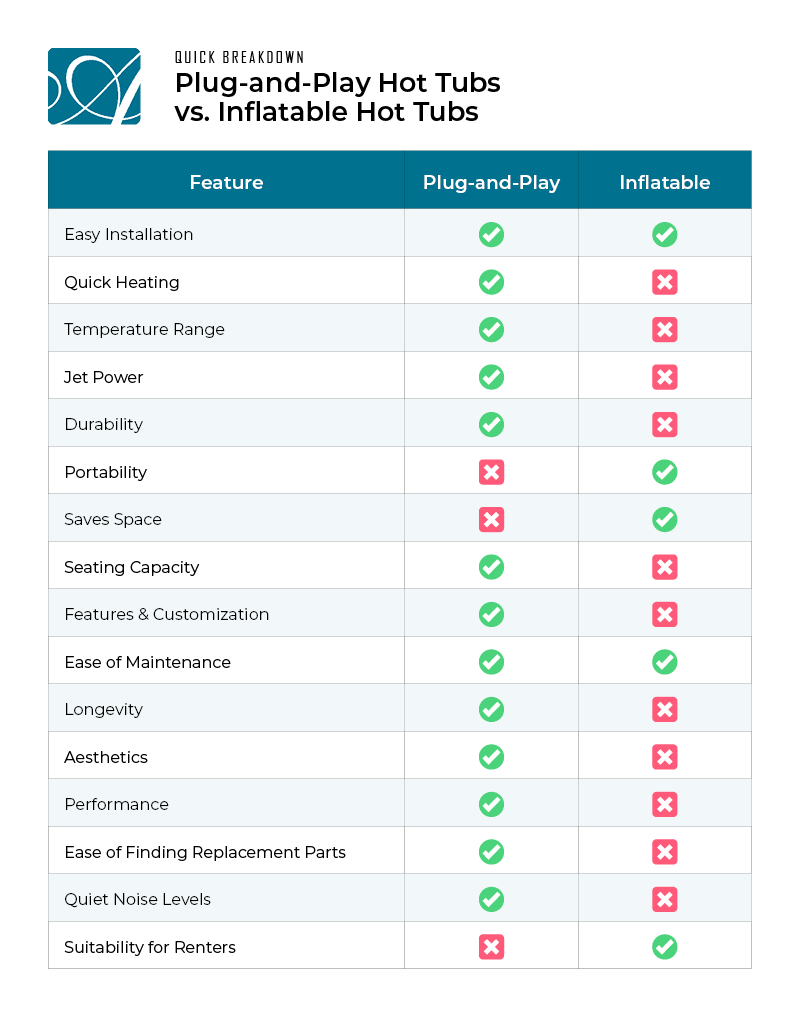 Ultimately, the decision between a plug-and-play hot tub and an inflatable hot tub depends on your specific needs and preferences. If you're looking for a permanent hot tub solution with more advanced features, a plug-and-play hot tub may be the ideal choice. However, if you prioritize portability and affordability, an inflatable hot tub is worth considering. Or if you're just dipping your toe into the world of hot tubs!
Everyone has a different ideal spa experience. Choose the one that's best for you! Whichever option you decide, make sure to do your research, compare various models, and consider factors such as size, budget, and long-term maintenance requirements.